Books
---
Terre de chiens, 2019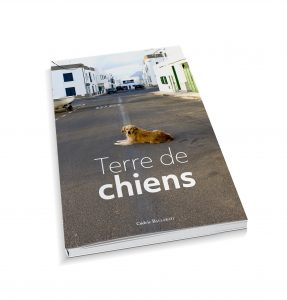 FR-
Ce livre, que je dédie à ma fille née presqu'en même temps, est définitivement un livre empreint d'optimisme.
Vous vous êtes peut-être déjà demandé à quoi pouvait bien penser un chien quand il vous regardait ? Et bien, j'ai eu la chance de récolter les états d'âmes, coups de gueule et pensées de plusieurs chiens rencontrés en voyages. De la Patagonie, au Portugal, en passant par la Tanzanie, les photos de ces chiens et de leurs Terres, accompagnent de courts textes, parfois corrosifs, parfois tendres, souvent rêveurs.
ANG-
From Patagonia to Portugal, via Tanzania, let yourself be guided by these dogs who reveal their deepest thoughts. Terre de chiens -World of dogs-  is dedicated to my first daughter, born almost as the same time as the book. It is deeply  hopeful. All the french texts are translated in English at the end of the volume.
Détails :
96 pages en quadrichromie sur papier 170 g/m2 – Munken Polar Rough
Couverture en quadrichromie sur papier 300 g/m2 – Munken Polar Rough – Vernis satiné
Format à la française de 18 x 27 cm avec 96 pages
Reliure suisse – Swiss binding
Prix public 29,95 € – $35
L'avis du critique littéraire, Fabien Ribery :
Chienne de Terre ? Non, Terre de chiens, par Cédric Ballarati, photographe
Librairies en Belgique:
Aywaille : Librairie de la Montagne Sauvage
Bruxelles : Candide, La Licorne, Tipi, Peinture Blanche, Rat conteur
Charleroi : Molière et au Musée de la photographie
Huy : La dérive
La Louvière : Librairie de l'écrivain public
Lasne : Scriptura
Liège : Toutes Directions, Livres au Trésor, Wattitude, Déco'Vertes
Malmédy : L'Aventure, Cunibert-Damen
Marche : Livre'S
Namur : Papyrus
Nivelles : La Compagnie des Mots
Ottignies : Le Petit Bouquineur
Roclenge : NLJ
Tilff : Long Courrier
Verviers : La Traversée, Les Augustins
Vielsalm : Le rat des Champs
Visé : L'oiseau Lire, Wagelmans
Waterloo : Graffiti
Et également sur le site web promouvant les auteurs belges : www.lelivrebelge.be
Si vous ne le trouvez pas en librairie, contactez-moi par mail à cedric@cedricballarati.com et je vous le ferai parvenir !
US Bookstores:
Knoxville, TN : UnionAvebooks
Louisville, KY : Carmichael's bookstore
New-Orleans, LA : Octavia Books, Frenchmen Art&Books
Feel free to contact me to get a copy by mail  ($35 + shipping) : cedric@cedricballarati.com
Payment by Venmo (@Lanie-Ballarati) or Check (1842 Trevilian way, Louisville, 40205 KY)